If you are on social media for a long time, then you most probably know that managing it is not an easy task. Not everyone can manage social media accounts in the best way possible.
That is why there are different types of social media management software to help marketers out. There is no doubt about the fact that we all know how important the management of social media is for businesses on the web.
The social media management software options that you have will increase the functionality of your accounts on social media. They help you automate Social Media Marketing Campaigns most conveniently and effectively possible.
There are so many other tasks that these software options will perform, such as post scheduling, content suggestions, post boosting, managing, and administrating social media accounts.
There is just so much to do in case of social media management and proper social media management software will do all of that.
With the help of a tool like that, you will be able to organize different marketing campaigns on social media, increase the awareness of your brand in various platforms of social media and so much more.
So, why wouldn't anyone want to try it right?
We know that you want to do that as well. But there are so many options on the market that you might get confused about what to choose and what not to choose.
Well, in that case, help has already arrived. We are here for you.
Table of Contents
HootSuite
Facebook Pages Manager
AgoraPulse
Sprout Social
Zoho Social
TweetDeck
Social Studio
Sendible
Buffer
SocialFlow
Some Helpful Social Media Management Software Choices For You
Here we are presenting some of the best options for the software that will help you in managing the social media accounts that you have in a better way.
Make sure that you choose the one that fits your needs and requirements.
These are some of the best software options, so you will not regret the decision you make for sure.
HootSuite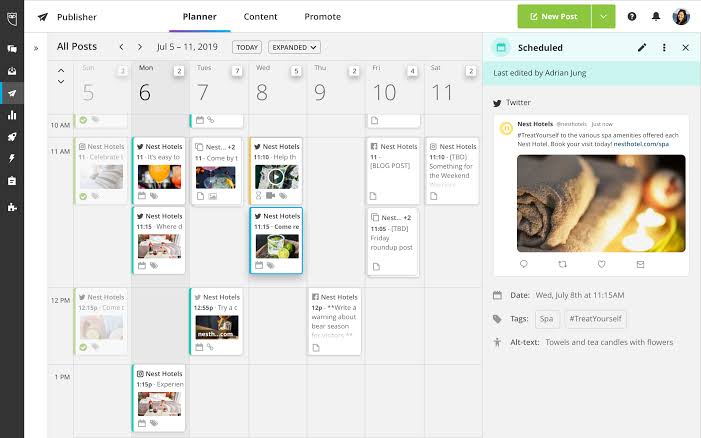 When it comes to the intelligence and monitoring of social media, there is nothing that can beat Hootsuite in it.
All the businesses use this particular software to make sure that their activities online are always optimized.
Apart from that this Social Media Management software also helps in increasing the interaction that marketers have with the people on the platforms of social media.
You can also monitor the brand reputation that you have and see the things that people are talking about your brand.
Now, doesn't that sound helpful, people?
Facebook Pages Manager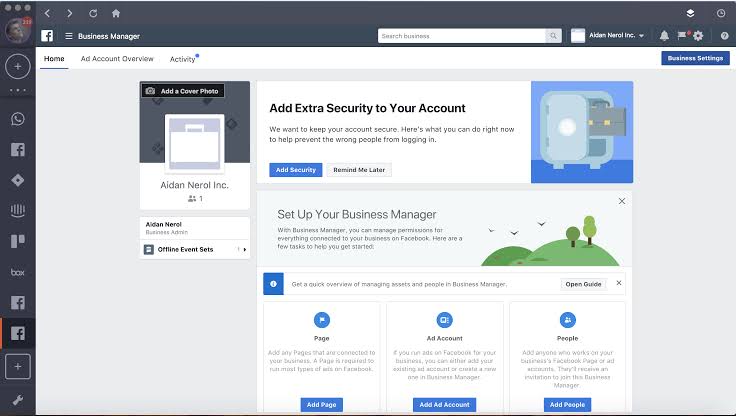 As one of the top Social Media Management Software, the Facebook Business manager is quite effective in managing different pages and profits on Facebook.
So, for that reason, the Pages Manager software was created by Facebook to help the marketers in managing and channelizing different accounts with great ease.
This particular software for social media management will help the business owners to target the buyers very easily. What is even better about the software is that it can be used as an app as well.
Now, who wouldn't want to try it out, right?
AgoraPulse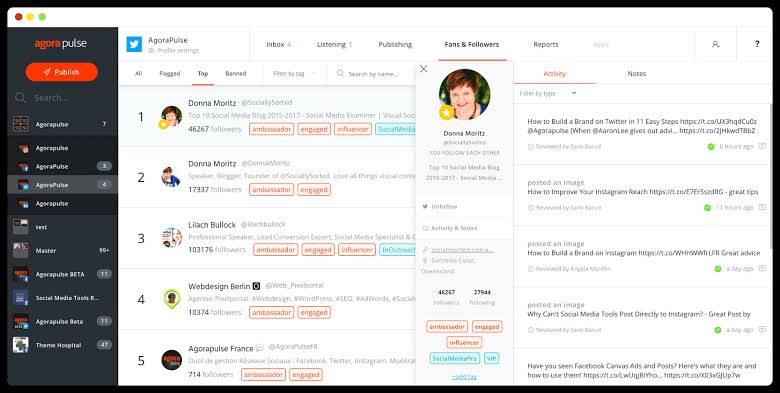 Here is another software that we have for you that helps in monitoring and management as well. So, you will be able to optimize the Instagram, Facebook, Google+, and Twitter accounts that you have.
Not just that but you will also have end-to-end control over the posting that you make and targeting becomes easy too. Now, you can easily modify the templates used in the platform library with the software as well.
There is also a content editor that helps you draft some amazing posts. AgoraPulse helps in managing all of your Facebook, Instagram, and Twitter activities with utmost ease and effectiveness.
It is quite useful in end-to-end conversation management along with discovering brand influencers, calendar function, and so on.
Sprout Social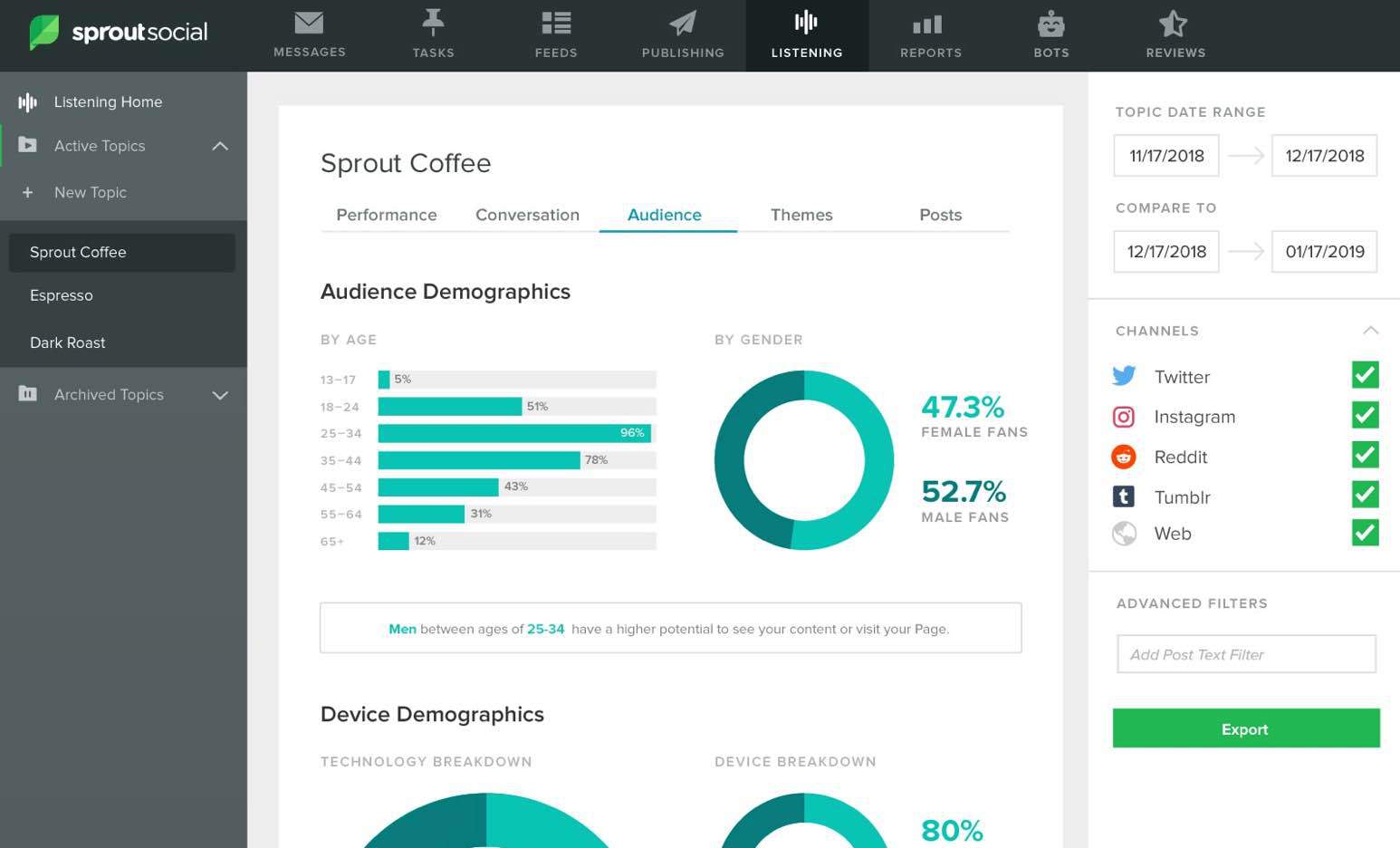 We all know that providing proper and consistent customer experience is the ultimate mantra for the success of any brand.
Sprout Social will save a lot of your precious time by providing many different benefits such as streamlined communication with the people, personal contact options with clients, and so much more.
You will also be able to validate and quantify the marketing efforts that you make.
You can use it to synchronize all leading social networks. Besides, it is of great use in offering complete social media management solutions along with the customer-oriented system, and it is also enterprise-friendly.
Zoho Social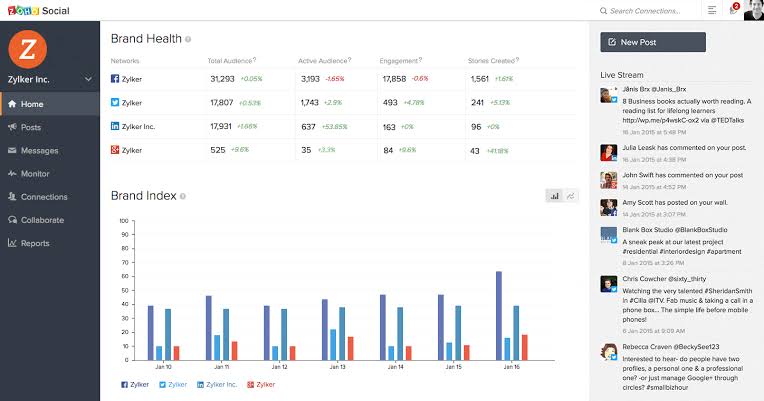 If you have a business that is growing, then Zoho Social is the software that you should choose. The social media management tactics that it uses helps in the optimization of social media performance.
The dashboard is user-friendly, and you will be able to have many benefits such as post schedules, trend, and keyword monitoring, proper team engagement, and so much more.
The best thing about this particular software is that it doesn't come at a very high price, given the benefits that it provides.
From advanced publishing to brand inbox to Chrome and Firefox extensions, this social media management software is going to be of great help for you.
TweetDeck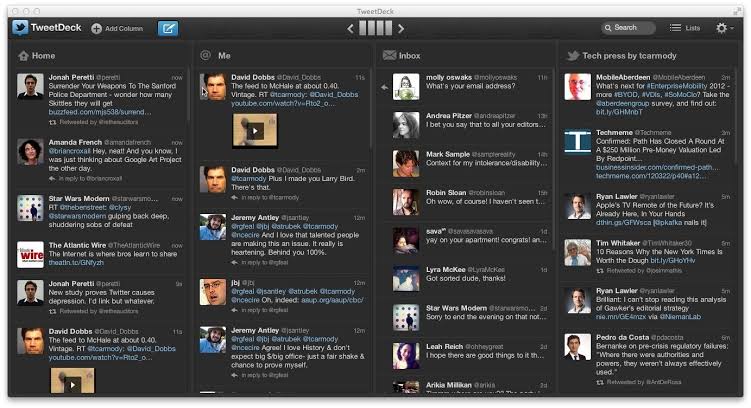 Do you have a business that depends mostly on the Twitter posts that you make? Well, in that case, you need an option like TweetDeck. With the help of this software, you will have multiple functionalities, to begin with.
Engaging with the followers in real-time is possible with this particular software. Also, you can get some significant business opportunities as well. There is also a CMS system that will help you out.
Also, it offers features like a Twitter-exclusive system along with Flexible list management and notification alerts. So, what more do you need?
Social Studio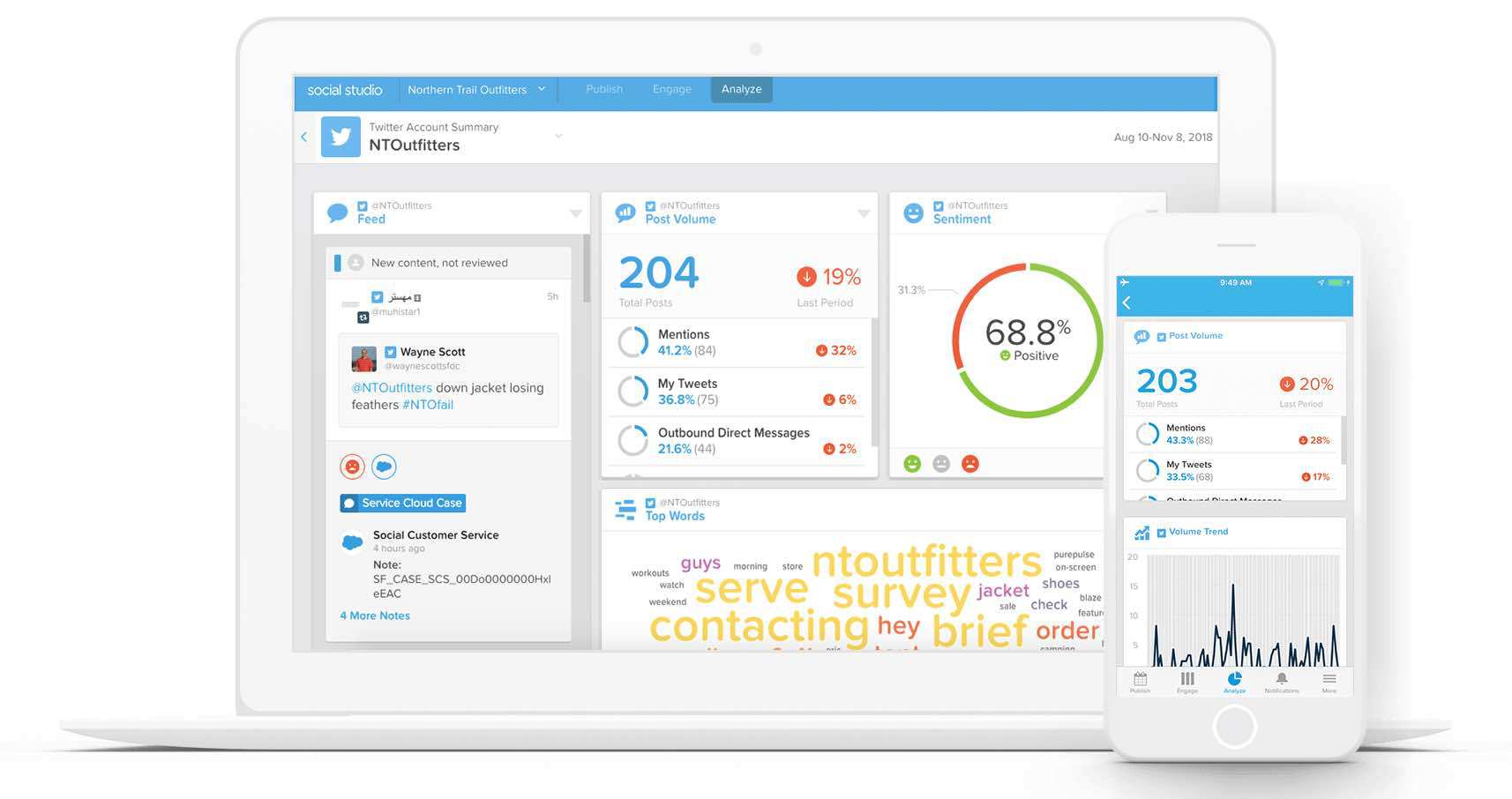 This particular module for the management of social media is based on social listening procedures.
With the help of this, you can easily publish across multiple platforms, create engaging content for the people, and also manage different marketing commands that you make.
All you need is a particular control center, and you are all set. If you want to incorporate the activities of traditional marketing into promotion, then this is the tool for you.
With this social media management software, you will get a Salesforce product that is well adept in collaboration and offers features like Understanding what customers think of you, Enterprise-friendly abilities, Creating and sharing content with great ease and customization.
Sendible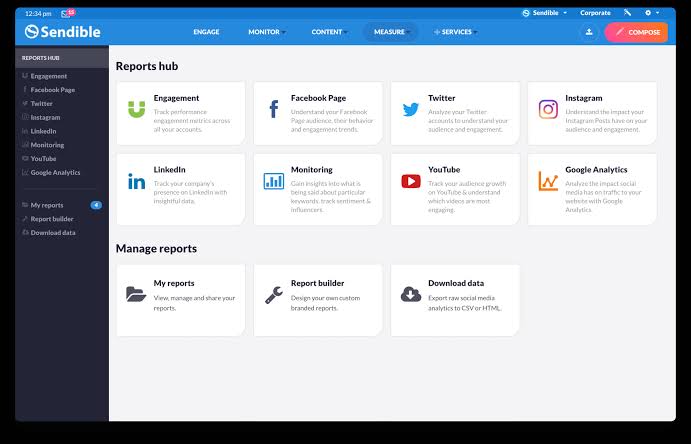 If you want a Social Media Management software that has got a more creative and diverse approach when it comes to the management of social media, Sendible is the tool for you.
Not only will you get to manage the deliverability and the publishing of the content, but many processes will be automated in social media if you are using this particular software.
After learning all this, we are pretty sure that you want to try it. Go ahead and do that right now, people.
Some of the other features are the multi-functional dashboard, scheduled and simultaneous posting, lead generation, customization, lead management, and so forth.
Buffer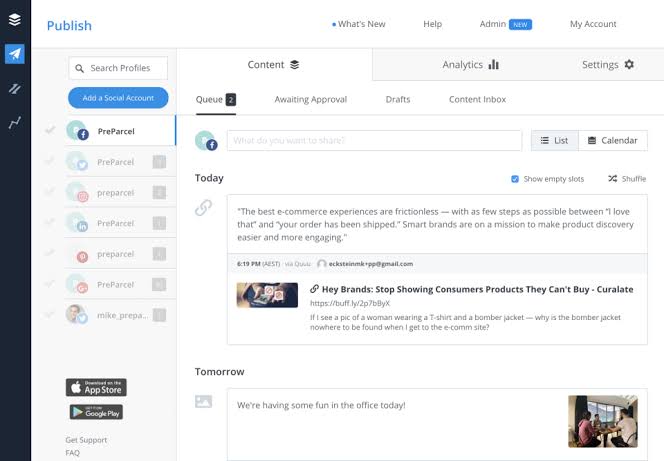 With a user base of about 4000000 marketers in total, Buffer is a pretty old player in the market and a strong one. The reason it is so popular is that it provides multiple scheduling options for the posts.
You can easily select the posting schedule, and everything else will be managed for you. Another great thing about this is that it is available as an app on different platforms as well.
As a Social Media Management Software, this one helps in quick and easy scheduling. You will also get help in crafting unified updates and analyzing the performance of your Social Media posts.
It also helps you in RSS feeds, Video & GIF uploader that makes it one of the most tools for social media management.
SocialFlow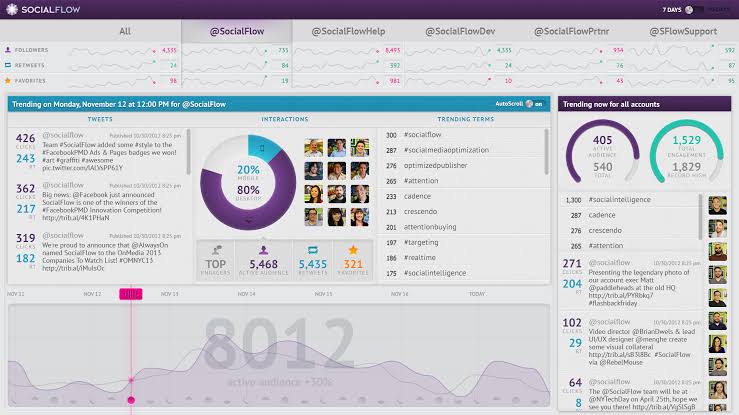 This is another one of the tools that we have for you. With SocialFlow, the publishers can replace the arbitrary scheduling and then have some data that is actionable.
So, as a result, you will be able to make sure that the audience is all engaged with the content that you provide.
Apart from that, the content that you create will be all interesting and engaging as well. There is also an added benefit that you can reach many people on different platforms at the same time.
Some of the notable features that make it be in the list of top social media management software are Content optimization, Content attractiveness algorithms, Quote-based pricing, Traffic optimization, Audience involvement algorithms, and so on.
Conclusion
So, what do you think of these different social media management software choices? Are you going to select one of them? If you do, then you will be impressed with the results for sure.